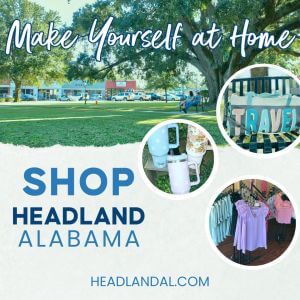 We are moving quickly through the second quarter of the year!
The chamber team has been working on quite a few projects this year that align with our strategic plan. We are supporting our local businesses by launching a Summer marketing campaign focused on capturing the large target audience that travels through our city en route to the beach. "Make Yourself at Home" invites travelers to slow down and stop in Headland to shop and dine. The campaign will accomplish our objective by utilizing billboards, social media ads, and ads on streaming services, such as Spotify and Youtube.
Later this month, our Headland Chamber app will launch in the app store! Our community and guests will have Headland at their fingertips. The app will feature a member directory, city resources, event information, and a network to connect volunteers and members. Our app is another platform for bringing our community together and creating opportunities for engagement.
June 5th at 5:30pm will be another opportunity for our community to get together. We will have a public meeting for an Arts Council here in Headland! It will be held at the Headland Public Library. We invite all artists, musicians, performers, and art enthusiasts to join us.
The Annual Fourth of July Ag Parade and Fireworks show is next month on July 4th. Activities will begin at 4pm, the parade rolls at 5pm and the fireworks at Douglas Park will light up the sky that night.
Harvest Festival preparations are already in motion. Harvest Day Vendor spaces are open and vendors can submit applications online. If you want to get involved in preparations, let us know. We have room on all of our committees!
I also encourage you to check out WTVY's coverage of Headland on their Hometown Tour. They did a great job highlighting the Gem of the Wiregrass! Watch the coverage here.
- Adrienne