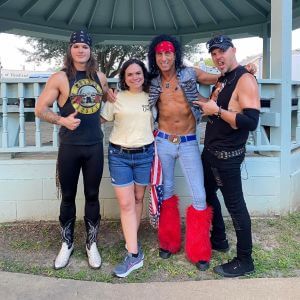 It's Back to School time already! I hope you all enjoyed your Summer and were able to make it to at least one Under the Oaks!
Last month we rocked out the square with the Velcro Pygmies! We had record-breaking attendance as guests danced on the square, dined at local restaurants, and enjoyed being in Headland (until the thunderstorms rolled in.)
Our Headland Arts Council is still growing and planning the Harvest Art Show in conjunction with Harvest Festival. The Arts Council's mission is to promote and support local artists, foster a vibrant arts community, and provide opportunities for artistic expression and engagement for all members of the Headland community. If you are looking to get involved or would like to be an artist in the show visit 
www.heartofheadland.com/arts-council
. You can become a member and also support the council by volunteering.
While we are on the topic of Harvest Festival... Mark your calendars for October 13 & 14th! It will be here before you know it. We have a handful of vendor spaces still available. We will have a VIP section for the Tim Tyler Piano Experience and are working on special perks for guests. More details for Harvest Festival are listed below. If you have any questions, please give us a call!
Make Notes of these dates for the Holiday Season:
November 16th - Let it Glow Christmas Light Judging
December 1st - Sundown Cinema - Polar Express
December 7th - Christmas Parade and Tree Lighting
Adrienne